Solvecta - Portfolio : Software Design : VB : TeleMeter
This project started life when we looked at the market for Internet connection monitoring software and found that the existing software was rather basic - we created our own software which would have many more options: e.g. statistical analysis.
This product only applies to dialup Internet access - it would not be of any use with always-on connection like broadband.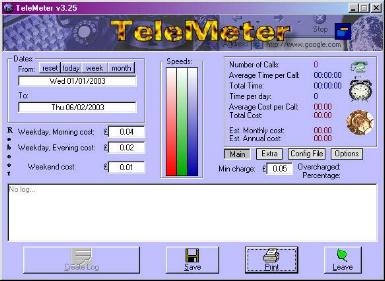 Features of TeleMeter software:
Compatible with Aide Onlinometer files
Analyse online spending between any two dates
Up to 3 different cost periods: Week day mornings, Week day evenings and Weekends - Specifically tailored to UK (i.e. BT etc), but can be modified to suit other locations
Connection speed is logged - compare speeds at the weekend with the weekdays, for example
A backup of the log file can be automatically saved to a separate folder
Printing options
Graph/Plot data: hours logged, success rates and usage
If you are limited to x hours per day, TeleMeter can show you how much time you have spent so far and how much you have left
Provides: number of calls, average time per call, total time, time spent per day, average cost per call, total cost, estimated annual cost - and even the amount lost due to having a minimum call charge!
---
A zipped, self-extracting all in one executable file (a setup EXE in a zip package) is still available here (410kb).This contains the additional tutorial files in html format. Download, unzip and run 'tm_3_32.exe' to extract the files into a suitable directory such as C:\Program Files\TeleMeter. To run TeleMeter just double click on shortcut.
NOTE: Computer systems have changed many times since this application was released (last update in 2003, originally written for Windows 98) and the serial registration may no longer work.
Released under the "Verysoft" range